As every cat owner knows, nobody owns a cat. Ellen Perry Berkeley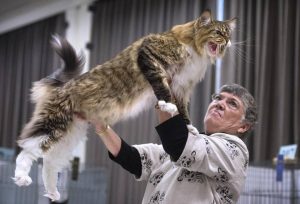 What are your plans for the weekend? How about attending a cat show?
At a cat show each cat is placed in the ring, in an individual cage. The Judge takes the cats and kittens out, one at a time, and evaluated the head, coat, color, eyes and body of the cat, as measured against the standard for that breed. The cats then are awarded prizes based on the Judge's decision. Each win adds points to the cats' total for the year, and at the end of the year there are yearly award for the bests of each breed and category. Go see a cat show! It is an inexpensive way to have fun with the kids or friends, meet new and interesting people, and see cats you have never seen before!
So where are the cat shows?
Here in Southern California, the Pet Expo is happening at the same time as the Kat Knappers'/Purr Pourri  show at the Orange County Fair and Event Center. Learn more here. 
Or… The Santa Monica Cat Club is having a show in Pomona… details here. 
For the East Coasters… in Boston there is the BosCats show!  Where? Here!
Other shows around the world can be found at the TICA Show calendar.
There are also shows in Medina Ohio, and Springfield, IL. Here's the CFA Calendar.
Find out why purebred cats might be a good choice for your family! Support the breeders who help strengthen the various and beautiful felines we love so much!