Every couple of years the Devon community comes together in its mischievous glory to celebrate and honor our amazing (and amusing) cats. The event is called Devon Heaven, and it is an awards banquet held one evening after a Saturday cat show.
The theme for this year's Devon Heaven is Devon Valentines, and it will be a part of the Steel City Cat Show on February 11, in Monroeville, PA. (Show flyer here!) The banquet is only open to Devon Rex Breed Club members, but promises to be a fun, memorable and raucous good time! There is a live auction fundraiser with wildly entertaining auctioneers, Curlydolls' own Dolly Chamness and Melanie "Vanna White" Bell.
And yes, there is a costume contest! (Pictures from the 2015 Devon Heaven can be found here!)
But you can only attend if you are a member of the Devon Rex Breed Club. Click here to join now! (Support the efforts of the Breed Club to develop and improve the cat we love so much!) The fee is reasonable and is a worthy cause!
If you just love Devons, consider attending the cat show! You may never again see so many Devons in the ring at one time! The show is held at the Monroeville Convention Center 209 Mall Plaza Boulevard Monroeville, PA 15146 on Feb. 11 and 12. There is a small fee for admission, to support the Steel City Cat Club who sponsored the show. There will be 6 rings, many beautiful cats and a TON of Devons! Black, red, calico, silver, shaded and smokes. Big ones, small ones, kittens and cats. Devons galore!
The show is not to be missed! Find a friend and come out and some of the best Devons in the world! (This is also a terrific chance to meet the breeders of these fine cats, find out about ownership and kitten availability or possibly to pick up your new kitten – by prior arrangement!)
But if you own a Devon, every day is Valentine's Day!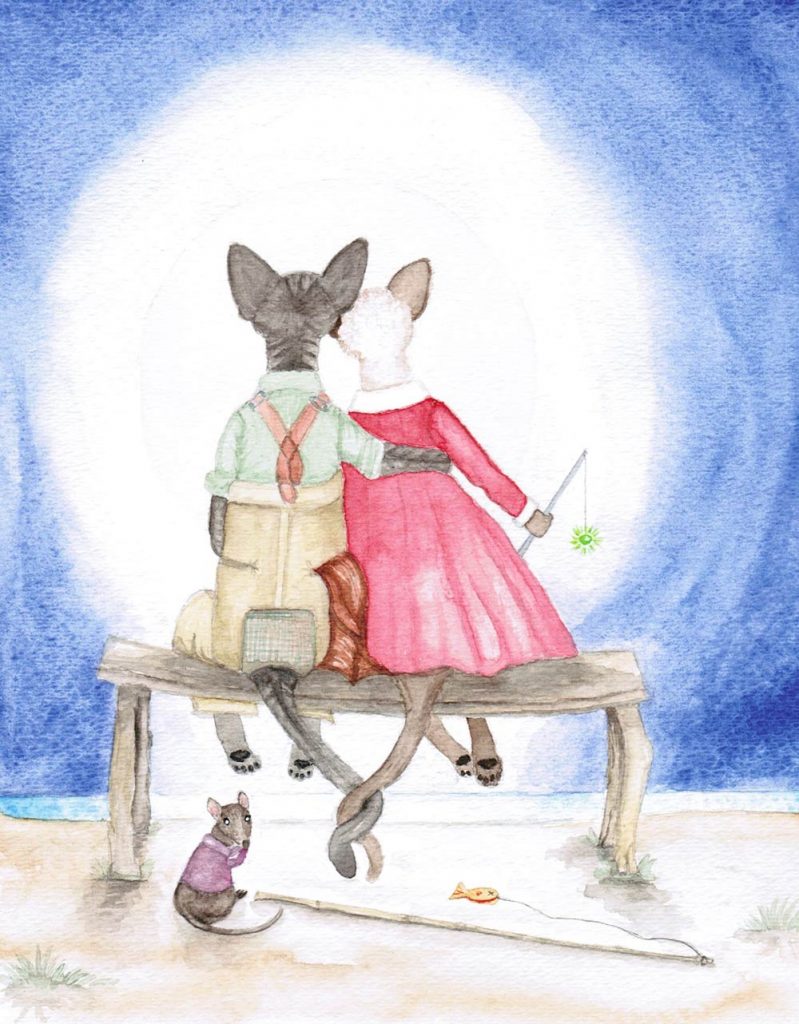 "Love is Love" is exclusive Planet Devon art by Wichita artist Elizabeth Winterbone. Her work is featured here at Planet Devon. You can see more of her art made with love at her site, elizabethwinterbone.com. She specializes in custom folk art tailored to you – monograms, personal cards, artistic renderings of meaningful family recipes, etc. All of the art seen on items in the Planet Devon gift shop is exclusive to Planet Devon, and any piece is available as a beautiful gicleé print, suitable for framing.