Devon and her pal need a home! Jofee and Jamie!
Currently homed in Northern California with her current owner: A wonderful Devon and her Bobtailed friend need your love! 2 young cats, bonded, healthy and sweet as can be!
Jofee is a rare 3 year old Devon Rex girl (lavender cream coloring) who will charm you with her impish looks, her super social nature, her petite frame and her true to the breed and thus much beloved purrsonality. Just look at the pictures of this little pixie.

As the Yin to Jofee's Yan, Jamie is an extremely sweet, easy going and absolutely adorable 4 year old Japanese Bobtail. They are so well suited for each other that they absolutely must be adopted together, no exceptions. Just look at their pictures and the video and you know that nothing should ever separate these two peas in a pod.
The two are paired so need to go together. Devons often need a pal or partner, do if you are looking for a Devon, this might be the perfect pair for you! Share the information with someone you know who is looking!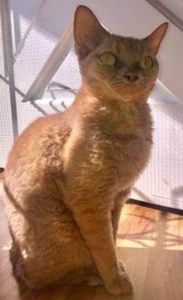 See a video of them together here:
Please consider adopting this loving pair! Contact Frauke at 925-784-8244 or loveallcats7@gmail.com