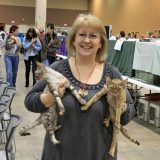 DevineDevons
Robin Robertson
About our cattery
We've shown Devons for over a Decade in CFA only but toying with the possibility to add TICA soon. We have produced many Champions, Grand Champions, Regional Winners, Breed Winners, a One-Show Grand, and a DM.
Health Screening
Yes; All our Devons are vetted, altered, current on shots, and health checked before they leave our home. A copy of their shot/health records along with their spay/neuter certificate is part of the paperwork that leaves with the kitty.
Spay/Neuter Policy
All kittens are spayed or neutered at around 16 weeks of age, health permitting. They can go to their new homes a week after their surgery as long as they have recovered well.
Written Application or Contract
Yes, we have a kitty questionnaire and contract that requires a $300 deposit.
Health Guarantee Offered
yes
Additional Information
Devons come in a variety of colors and patterns and we love them all. Our main concern is health and temperament.
We have mentored but prefer to work/mentor with breeders who have already bred and shown another breed. I learn from them as well.
We recommend any new breeder/exhibitor to have a mentor. CFA has a mentor program and a lot of information on their site to help newbies. It's a good place to start if you think you might want to join the cat fancy. Do a lot of homework – Go to shows – meet the breeders – and ask a lot of questions.
With that being said:
Breeding Devons is not easy as any committed breeder will tell you. It is recommended that before jumping into a commitment like this that you show a Devon in Premiership (altered class). If you are not going to commit to improving the breed with each generation, then purchasing a pet is a better plan for you. This is a very expensive hobby and most will not make it past the first 2 years for a number of reasons.
Keep in mind that if you plan on bringing a new kitten into this world, they are your responsibility and one that should not be taken lightly.
Additional Photos