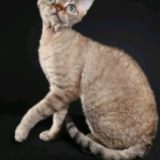 Nu Moon Cattery
Tina Orfanos
About our cattery
I breed and show with CFA and occasionally with TICA . I do have Devons in most colors. Happy to work with new exhibitors if interested in learning how to show your cat. I do offer a Health Guarantee in my contract..
Health Screening
Yes, contract and health guarantee
Shipping Policy and Practice
Willing to meet at the airport if you want to fly in and out same day to pick up a kitten. Sometimes possibly could transport but I do not ship by themselves. We've had several fly in and out to Salt Lake same day from surrounding states since has lots of lights and save them all no hotel or car rental.
Refund Policy
All is stated in my contract. Usually will refund the first week and there's a health guarantee in there for the first year for genetic reasons. Several of my personal cats have been screen for HCM so I know my lines and I am in the process of getting cats screened
Assistance with return, rescue or re-homing of your own cats?
Yes
Written application for a potential buyer
yes
Kittens
April, 27 2023
21 weeks/Male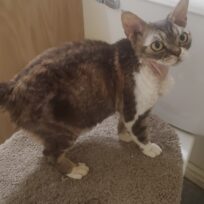 June, 10 2019
223 weeks/Female
Additional Photos