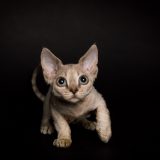 Feliformia
Matilda Eriksson
About our cattery
I don't breed by colour. My main focus are genetic variation, health, sound temperment and high quality coats. I prefer to co-operate with breeders who share those values and I'm glad to mentor new breeders.
Health Screening
no
Shipping Policy and Practice
I ship worldwide. Will not send single kittens/cats as cargo.
Assistance with return, rescue or re-homing of your own cats?
yes
Written application for a potential buyer
yes
Kittens
July, 06 2016
361 weeks/Female, Male