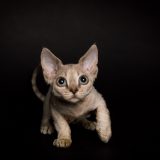 Feliformia
Matilda Eriksson
About our cattery
I show my cats at WCF and TICA shows. Since I've been working with an outcross program I haven't shown for many years until now when I have my first litters with wavy coated (F3) kittens. The female I'm keeping has been very succesfull. Last show (WCF) she entered she became BIS (equal to Best of the Best total in FIFé) both on Saturday and Sunday.
Health Screening
On request.
Spay/Neuter Policy
Pets are spayed/neutered before they leave.
Written Application or Contract
On individual basis.
Health Guarantee Offered
no
Additional Information
I don't breed by colour. My main focus are genetic variation, health, sound temperment and high quality coats. I prefer to co-operate with breeders who share those values and I'm glad to mentor new breeders.
Kittens
July, 06 2016
63 weeks/Female, Male