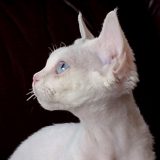 FaceHuggers
Lyssa Paull
About our cattery
I am interested in helping qualified people begin breeding programs. The Devon and Manx are both minority breeds in danger of bottle-necked gene pools. I do mentor others.
Health Screening
yes
Shipping Policy and Practice
I have shipped under certain circumstances, prefer clients to come here for release to new home.
Assistance with return, rescue or re-homing of your own cats?
yes
Written application for a potential buyer
yes
Kittens
June, 06 2019
back to Dilettante, Capilano, Devinedevons, and Loganderry
208 weeks/Female, Male