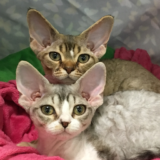 Karmacatz
Linda Peterson
About our cattery
Karmacatz kittens are raised underfoot with lots of love and attention. We do have kittens available on occasion to select pet homes. We welcome inquiries about our cats, kittens and the Devon breed. All pet kittens & adults are spayed/neutered, vaccinated, micro chipped, and health checked by our vet prior to leaving for their new forever homes. We have a written contract and health guarantee.
Health Screening
Yes, contract and health guarantee
Shipping Policy and Practice
I do not ship.
Refund Policy
Should this cat succumb to a fatal illness attributed to this cattery (or to genetic defects not previously detected) within one year of purchase, the seller will allow the buyers to select a kitten from the next available litter in order to replace the cat. (Replacement, not a refund of the purchase price, will be made).
Assistance with return, rescue or re-homing of your own cats?
Yes
Written application for a potential buyer
yes