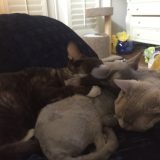 Kirleecoat
Pamela Story
About our cattery
CFA , I have shown with CFA for the past 2 years. I have a Grand Premier Devon Rex and a champion 75 points from Grand Champion.
Health Screening
Will be available, I have been mentored and have not yet had any kittens. I have 3 breeding females and one breeding male
Spay/Neuter Policy
Will only be sold spayed/neutered before leaving.
Written Application or Contract
application I ask about the living situations, views on declawing, whether the cat will be kept inside, household members, their experience with Devon Rex, do they work or travel a lot, what will provisions be for my Devon Rex, I will be registered as backup contact on microchip and will get the cat back for any reason they cannot keep. Never put in Pet shop or resold on internet. Must be provided good vet care and food and lots of play time and love. Does where they live allow them to have a pet. Must provide Great Veterinary care.. I ask for their Vet's contact information.
Health Guarantee Offered
yes
Additional Information
I will help anyone that adopts one of my Devon Rex with showing mentorship
Additional Photos