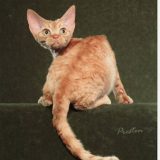 Everafter
Tina Chittick
About our cattery
My Devons are raised under foot and under the covers and are never caged. Kittens are properly socialized and loved. My queens only have 1 to 4 litters and retire by age 3 or 4. My studs retire at age 3 so that all breeding cats may have the opportunity to live a wonderful life as a beloved pet getting all of the attention. I mostly get pointed and mink colors since they are my favorite colors. I also commonly get cinnamon, all solid colors, tortoiseshells, calicos, some tabby and some bi colors. I also occasionally have straight coated Devon hybrid kittens available for love and/or showing in Household Pet classes that have full, wonderful Devon personalities but a fraction fo the cost. My cats are screened for HCM, luxating patellas and hip dysplasia.
Health Screening
Yes, contract and health guarantee
Shipping Policy and Practice
Shipping available weather permitting. I has to be 65 to 80 degrees.
Refund Policy
Refund offered depending on the situation and current age of cat or kitten being returned
Assistance with return, rescue or re-homing of your own cats?
Yes
Written application for a potential buyer
yes