Lochmaere
Dwayne and Cynthia Schroedel
About our cattery
Our cats are primarily shown in TICA and ACFA.
We are a mini cattery. All our kittens are raised under foot in either my house or my sisters or brothers. All our Devons are kid friendly and family oriented. We are located in Chicago Suburbs, St. Louis, and Northwest AR. We love our babies and prefer pet homes for them. We do occasionally sell one for show but usually keep these ourselves. Prefer email contact rather than phone.
Health Screening
yes on request
Spay/Neuter Policy
Pets must be nuetered 6-8 months of age. Papers once proof of altering is submitted.
Health Guarantee Offered
yes
Additional Information
We work with Pointeds, minks and other regular colors.
Kittens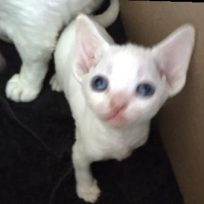 July, 07 2016
63 weeks/Male