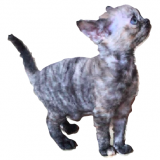 BloomingRex
Mary Perfitt-Nelson
About our cattery
Registered in CFA. Have multiple National and Regional Winners in sphynx breed. Looking forward to showing Devons.
Health Screening
Test results provided to buyers. Genetic testing on all breeding adults.
Spay/Neuter Policy
All kittens spaye/neutered prior to leaving.
Written Application or Contract
1. The breeder is responsible for all care (physical, medical, etc) prior to adoption. The adoptee is responsible for all care (physical, medical, etc) from the date the cat begins residing in their home.
2. The breeder guarantees the adoptee that every attempt was made to raise healthy, well-adjusted kittens. The breeder will disclose the medical/health history of adopted kittens and parents. A facebook group will be created for the families with kittens so that we can keep updated for life.
3. The breeder will guarantee kit leaves here healthy and will have been seen by the veterinarian no less than three times since birth. Breeder will allow adoptee the option of another cat from unrelated lineage, for cost of spay/neuter, and at a time convenient for adoptee if this kitten is found to have a life-threatening, genetic illness through age five. To date, we believe these kittens come from a sound pedigree with healthy parents. Parents and grandparents have healthy hearts at this time. Genetic testing will be done on the lines for many inherited diseases.
4. The adoptee will inform breeder of any medical intervention necessary for for life.. Breeder is interested in kitten's total welfare for life. Adoptee agrees not to declaw and not to euthanize without breeder consent. 5. Adoptee will seek yearly physicals with heart auscultation.
6. The breeder will be contacted immediately if, for any reason, the adoptee can no longer care for the kittens or fulfill contract. They will not be re-homed without breeder consent. The breeder will assist with finding a suitable home if needed. (Breeder has spent considerable time, effort and other resources into making connections so that the welfare of cats not in our breeding program will be a priority and the best homes will be found). Adoptee reimbursed at the rate breeder obtains. Breeder will not benefit from this financially.
Total fees for kitten will be 1100.00. This will include microchipping, spay/neuter/deworming and two immunizations over 12 weeks of age. A refundable deposit of $25.00 will hold your place. A deposit of 250.00 will be accepted with signed contract. This deposit is non-refundable but may be used toward adoption of another kit from another litter if adoptee chooses to "back out". If, for any reason (beyond adoptees' control) this kitten is not adoptable as a solid, healthy kitten as planned- the adoptee will have the option of accepting kitten at a reduced fee; waiting for another kitten or obtaining their full deposit. Otherwise, the balance is due a week prior to transfer of homes- unless other arrangements are made. Paypal, Chase Quickpay , cash and check accepted.
7. Adoptee is encouraged to provide medical pet insurance for the kitten (at a lower rate, due to young age). This is to protect the kittens and the family as well as the breeder (see #1 above). We know that living beings are fragile and vulnerable. Quality health care is imperative.
Health Guarantee Offered
yes
Additional Information
BloomingRex is a partnership between Mary Perfitt-Nelson (Detroit) and Jamie Chavez (Dallas). We maintain a small, careful breeding program, placing the utmost care around the individual lives of our cats. Creating a calm and pleasant environment for the mothers, fathers and offspring is priority. We raise one litter at a time with an eye on the social-emotional well-being of the kittens. They are exposed to dogs, when ready. We work with the colors that come to us and our favorites change over time.
Additional Photos