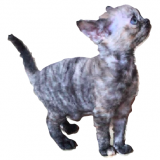 BloomingRex
Mary Perfitt-Nelson
About our cattery
BloomingRex is a partnership between Mary Perfitt-Nelson (Detroit) and Jamie Chavez (Dallas). We maintain a small, careful breeding program, placing the utmost care around the individual lives of our cats. Creating a calm and pleasant environment for the mothers, fathers and offspring is priority. We raise one litter at a time with an eye on the social-emotional well-being of the kittens. They are exposed to dogs, when ready. We work with the colors that come to us and our favorites change over time.
Health Screening
yes
Shipping Policy and Practice
I use a courier who carries cats under seat in plane to adoptees, if needed. I am driving two kittens to Pittsburgh and Chicago. Most people are local and come to my home.
Assistance with return, rescue or re-homing of your own cats?
yes
Written application for a potential buyer
yes
Additional Photos