Curly Pride
Anna Blumenov
About our cattery
My name is Anna and I'm the owner of Curly Pride cattery. We are a Devon Rex cattery located in Toronto, ON Canada. We work with red, black, chocolate devon rex cats with different patterns (tabby, tortie, solid, etc) No phone calls please. Emails only. Also you can find us on Facebook and Instagram - search for Curly Pride.
Health Screening
Yes, contract and health guarantee
Shipping Policy and Practice
We do ship kittens across Canada and US.
Refund Policy
The refund may be approved on a case by case basis.
Assistance with return, rescue or re-homing of your own cats?
Yes
Written application for a potential buyer
yes
Kittens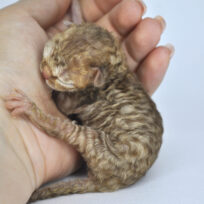 June, 05 2021
131 weeks/Female, Male